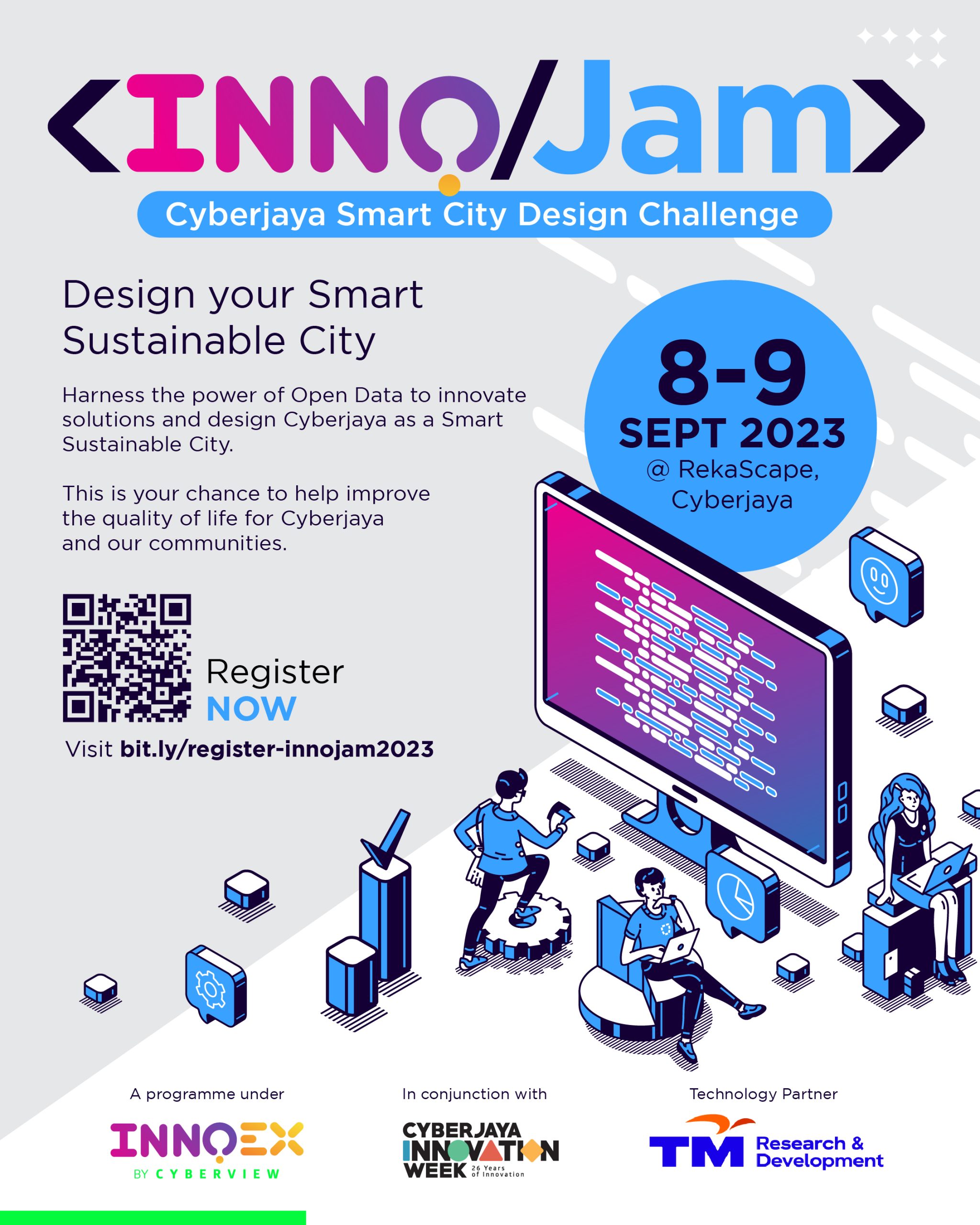 Date
Sep 08 - 09 2023
Expired!
Time
1:00 pm - 10:00 pm
InnoJam Design your Cyberjaya Smart Sustainable City
JOIN THE LARGEST OPEN DATA DESIGN CHALLENGE IN CYBERJAYA THIS 2023!
Are you ready to unlock your innervation? Look no further than InnoJam by Cyberview, the biggest design challenge in Cyberjaya in 2023! We can't wait to see what kind of innovative ideas that you'll bring to the table!
Harness the power of Open Data to innovate solutions and design Cyberjaya as a Smart Sustainable City.
This is your chance to help improve the quality of life for Cyberjaya and our communities. Help improve urban social living, make the city more efficient and responsive, sustainable and resilient, healthy and enjoyable to live.
Design an application solution, an IoT system or visualise how we can improve the city with open data.
WHAT IS INNOJAM?
InnoJam is not just a competition; it's also a celebration of innovation and creativity which are values at the heart of Cyberjaya.
InnoJam is a two-day design challenge where participants come together in dynamic teams to tackle real-world problems and develop innovative solutions. The challenge provides a platform for participant from all walks of life to brainstorm and design these innovative ideas and solutions with the help of seasoned mentors.
🎟️ IMPORTANT DATES🎟️
Portal Open for Registration: 31 July 2023
Data Access Training Session 1: 23/8/23 at Training Room, Rekascape 12pm – 1pm
Data Access (e.g. OIP) Training Session 2 (Virtual Meet): 18th August 11 a.m. to 12 p.m.
Registration Extended to: 7 September 2023
Design Challenge Starts: 8 September, 3pm @ Eventscape Hall, Rekascape, Persiaran APEC, Cyberjaya
Keep checking our website and social media for the latest information and exclusive sneak peeks.
For TM RnD OIP Marketplace:
i. To access, participants can go directly to https://store.oip.tmrnd.com.my/
ii. They can sign-up directly over there in order to use the published APIs
iii. For any questions or support during the competition, they can go to https://github.com/oiptmrnd OR, if you want the participants to channel the questions to us via you, the PIC to be contacted via emails are: En. Yeoh Chun Yeow ([email protected]) and Hj. Khairol Nizam ([email protected])