Cyberview is committed and passionate over transforming Cyberjaya into a vibrant and exciting global tech hub through our New Masterplan which delves deep into creating the most efficient ecosystem for growth.
As the Tech Hub Developer, Cyberview is mandated to revitalise Cyberjaya through the new Masterplan which focuses on capacity building in the areas of emerging technologies and R&D&C, particularly in Smart Mobility, Smart Healthcare and Digital Creative.
As a Tech Hub Developer, Cyberview operates through four core functions:
A progressive Masterplan has been devised to ensure Cyberjaya remains relevant and competitive within the tech industry space.
Significantly, with the Masterplan, Cyberjaya offers vast opportunities to tech investors and businesses to establish their presence here in Cyberjaya. Take advantage of beautifully designed and digitally integrated workspace and facilities to unleash unlimited potential, support R&D and enhance co-creation among tech players. Choose from a selection of world-class offerings from a Centre of Excellence supported by makerspace, testing facilities and co-working spaces, as well as other facilities including Grade-A Offices spaces, R&D centres, and bespoke offices.
Cyberjaya is committed to create a sustainable, high value comprehensive business launchpad and is strengthening its position as a Global Technology Hub. With excellent infrastructure to support growth across all areas, ready talent pool, attractive incentives and a supportive and involved community, Cyberjaya is the perfect home for global tech powerhouses and promising start-ups.
Driving Growth for Innovation, Businesses and Communities.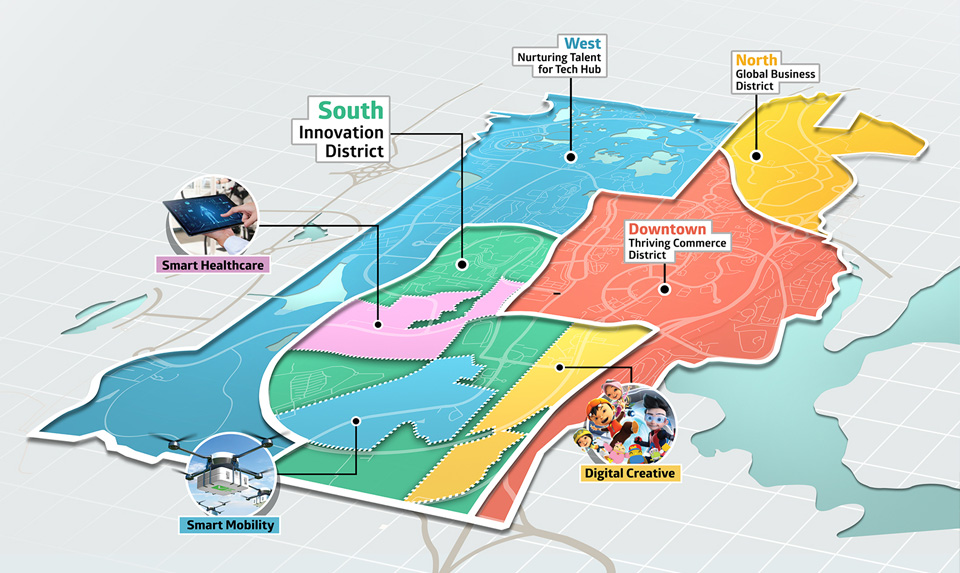 The new Cyberjaya development plan is estimated to contribute RM250 billion in GDP, create 87,000 jobs to the Malaysian economy and attract 11,200 companies by 2045.
The new multifaceted masterplan for Cyberjaya has been meticulously designed to provide dynamic synergies between companies from various industries and entire value chains through five key elements – Facilities, Community, Activities, Experience, and Incentives.
The rising smart city is geographically divided into four zones to optimise productivity and amplify growth.  Each zone has its own unique characteristics: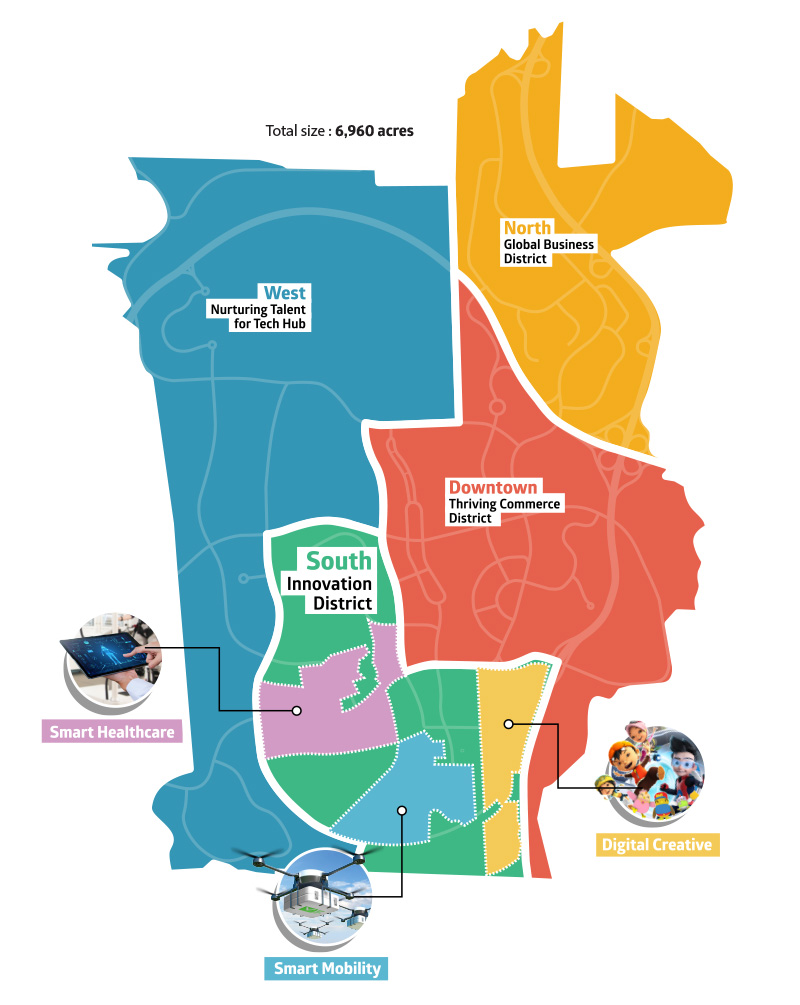 North Cyberjaya
Global Business District (1,278 acres).
Centre for manifestation of smart city solutions for a sustainable and advanced smart city.
South Cyberjaya
The Innovation District (1,273 acres).

Centre for innovation with focus on Smart Mobility, Smart Healthcare and Digital Creative. Once completed, the solutions are then commercialised and deployed to North and Downtown Cyberjaya.
Downtown Cyberjaya
Thriving Commerce District (1,703 acres).
Centre for the adoption of technology for commercial activities and integration into community lifestyle.
West Cyberjaya
Nurturing Talent and Community Development (2,707 acres).

Centre for industry-academia collaboration to produce skilled talent for South Cyberjaya, which requires high-value and skilled human resources for R&D and innovation projects.
Three Revolutionary Initiatives
South Cyberjaya development plan is designed for future innovation anchored by three tech clusters: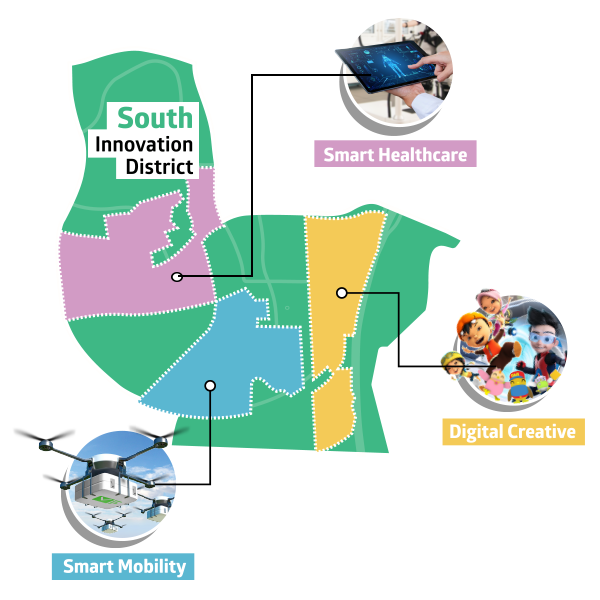 Cyberjaya aims to be SEA's leading mobility hub by creating a holistic, accessible, smarter and more sustainable ways to travel. 

Mobility as a Service (MaaS) offers users flexible, efficient and integrated modes of transportation to address demand for urban mobility solutions.

Other smart mobility innovations we are exploring include On-demand mobility, Autonomous Vehicles (AV & EV), Intelligent Transport System management and aerial mobility.
Cyberjaya

is actively creating solutions

f

or new smart healthcare to address the needs of Malaysians through medical robotics, healthcare analytics, tele-health and smart hotel management as well as preventive devices and platforms. We aspire to make all these affordable and inclusive to benefit all levels of society.
Cyberjaya is establishing itself as a regional one-stop centre for content creation, production and development. This covers digital creative content, on-demand and blockchain services.

We offer cutting-edge world-class facilities to transform Cyberjaya into a high value location for investors and entrepreneurs in the creative field.